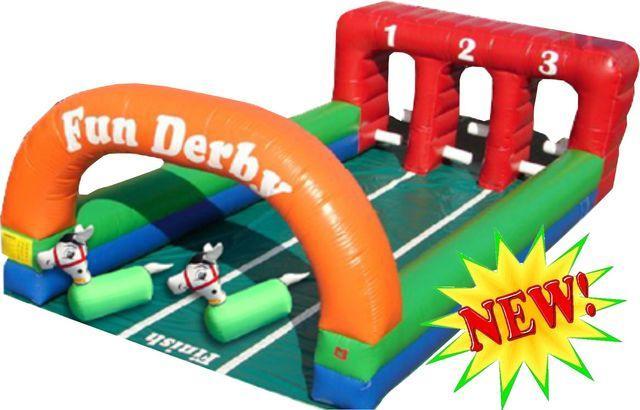 Fun Derby With 3 Pony Hops




$265.00

Please call to reserve this item.

Fun Derby Track!
Place your bets! On your marks, get set, GO! Our Fun Derby track comes with 3 Pony Hops and is the perfect interactive FOR ALL AGES!! From 3 years of age thru....... its fun for all. THe Pony Hop Jockeys line up in the gat and await their singnal. As they head down the track in hopes of being the first across the finish line, be ready for some hysterical antics. THis item is fabulous for
* Backyard Parties * HOA block parties
* Corporate Picnics * School Carnivals

* The possibilities are endless!

Set up with come with a Small, Medium & Large Pony Hops. Addtional Pony Hops are available and can be added. Liven up the activuty with our sound system with wireless mics, or even a megaphone- Call our Fun Crew to see what we can do for your event!



* Inflatable Bounce house rentals & Interactives delivered to Charlotte & surrounding areas



* Add Popcorn, Snow-kone or Cotton Candy concession for only $55 with any rental!